Japanese Clothes
► Authentic & Traditional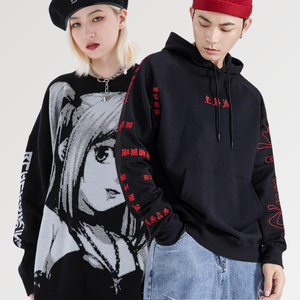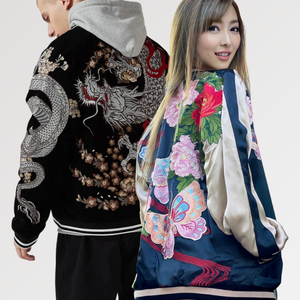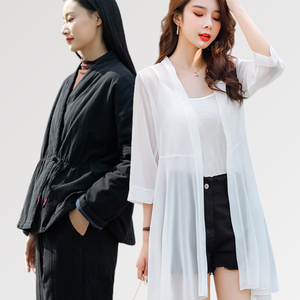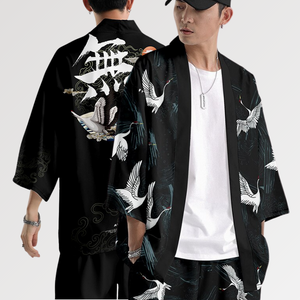 日 本 の ナ ン バ ー ワ ン シ ョ ッ プ の 歴 史 に 迫 る
Story of Japan Clothing
One goal, one ambition, one community.
Discover the history of the emblematic brand of Japanese streetwear left to conquer Europe.
日 本 の ナ ン バ ー ワ ン シ ョ ッ プ の 歴 史 に 迫 る
► The Japanese Kimono
Real key element of Japanese fashion, the Japanese kimono is regularly made of cotton or silk. This traditional japanese clothing is worn during special events or for cosplay, it is often composed of traditional Japanese patterns in a plain color without forgetting what makes the charm of the japanese style kimono: the obi belt with a rather atypical knot!
Nowadays, the traditional japanese kimono and all its variants such as the Yukata, the kimono cardigan, the kimono jacket also called haori or the kimono pajamas are anchored in the western fashion.
Its loose fit, soft fabric, traditional japanese prints and three-quarter length sleeves make this japanese clothing a complete outfit to finalize a casual, chic and classy Japanese style.
► The Japanese Store
Japan-Clothing has a range of japanese products for all ages. From japanese streetwear to traditional without forgetting the essential part in the land of the rising sun, japanese decor!
Looking for a specific japanese dress to complement your style? You'll easily find the perfect kimono jacket for a relaxing summer while staying well-dressed. Don't forget to equip the traditional Japanese shoe for a complete Japanese look.
The geta sandals is mainly worn with tabi socks and a long kimono for an unparalleled elegance. It can also replace flip-flops with an inner garment for a perfect compromise between comfort and delicacy with a japanese touch.
► The japanese clothing and streetwear store
Japan-Clothing is a reference in japanese fashion. With streetwear but also traditional clothing, this store specialized in japanese culture sources its products from Asian countries to satisfy and surprise its customers with a constant innovation. Passionate about Japanese culture for years, Japan-clothing stands out and offers a multitude of original traditional japanese clothes and updates its collections every season for always more novelty in your daily life.
Our japanese online store is very popular in major cities. We also have the latest models of japanese clothing, whether they are for children in a casual style, for adults in a traditional Japanese universe or for teenagers in an urban style inspired by Tokyo or Harajuku. We are now the number one shop for japanese streetwear and we continue to bring this wind of renewal with new pieces every month!
Let yourself go by browsing through the multiple collections of our japanese store. We are sure you will find the latest fashionable kimono for both men and women. Or one of our hundreds of kimono jackets with Japanese patterns and prints will fill your wardrobe for a cool summer look with a street style twist. Moreover, you will find in our japan store a lot of Japanese embroidered jackets called Sukajan as well as bombers without forgetting the very famous japanese hoodie!
 

Welcome to our Japanese store

The Japan-Clothing store is the n°1 shop in USA for Japanese clothes. You are a fan of Japanese culture and its kimono jackets? Then you are at the right place. You just have to find your happiness among more than 1000 references on the theme of Japan.

In collaboration with dozens of japanese brands and artists from all over the world, we have built a real growing community around this japanese store. Our team knows Japan inside out and could tell you its history since the Kamakura era. Present since the first imports of traditional japanese clothes in France, we apply ourselves to supply our store with the most beautiful japanese clothes in order to satisfy our customers.

Why buy on Japan-Clothing.com?

After our years of experience and happiness spent with Maneki-Neko and Daruma, we make it a point of honor to share our love for the world of Japan and its culture of traditions, indeed, the country of the rising sun perfectly combines streetwear and traditional fashion.

We add daily products in reference with the universe of Japan and thanks to our network of associated stores, we propose exclusive and unique models to our store. The quality of our japanese items is of utmost importance and each order is satisfied or refunded. Moreover, we do our best to honor our delivery time anywhere in the world.

Whether you are looking for a haori or a kimono jacket to spend a sweet and stylish summer, a japanese shirt or simply a japanese hoodie to give an urban touch to your daily outfit, a japanese kimono for men or women to introduce you to the traditional Japanese culture, a sukajan or bomber to awaken your rebellious spirit and trace the history of Japan through the embroideries, a pair of streetwear pants or a japanese dress to create a unique look for your walks in the city (choose the japanese geta if you want to be in adequacy with your kimono, if not, simply wear a nice pair of japanese sneakers) If you are looking for a streetwear bob or a japanese cap to protect you from the sun with class or a japanese wall art on canvas to finalize a quality japanese decor, you will surely find what you are looking for in our japanese online store!

Our japanese decor

JAPANESE DECORATION, HANDCRAFTED AND ZEN

The Zen spirit is an art of living in its own right in the land of the Rising Sun. The minimalist, spacious and uncluttered style is coming back more than ever in our western houses, strongly inspired by the interior decorations of the Japanese house. Most of the time, traditional Japanese houses have modern furniture of a rather small size and a very little furnished space to bring out the charm of the neat interior and the tatami floor (material made from IGUSA). This is the basis of the aesthetic concept derived from Zen Buddhist principles of japanese decor.

➜ We will share 4 crucial elements to design your Japanese interior:

1. Light: Separate yourself from the excess of decoration without symbolism or meanings to make room for more brightness with the aim of bringing out the essential. It is one of the bases to create a cocoon space in all sobriety. Letting the light through will bring you the serenity you were missing.

2. Functionality: In Japanese decorative objects or furniture for your interiors, it is important that each decorative object has a more or less important meaning, whether in the history of Japan or simply for you. The most popular ones are the Japanese ceramic vase or Ikebana vase, the Bonsai, the Maneki Neko, the status or statuette such as the Buddha status or the pouf, the lights or other objects such as the wall decoration or the lights that will bring out a Zen and luminous decoration. Make the right choice among these examples because it is crucial never to overload your interior!

3. The color: Bright red is a symbol color in Japan if you want to decorate a room in a Japanese spirit because it is synonymous with luck and happiness. Japanese decorations use very commonly natural shades such as beige, brown, gray, bringing calm, order and a Zen atmosphere in a room of your house or simply in a child's room.

Choose a soothing color as a background for your walls (an off-white for example) ensuring a calming atmosphere merged with a light subdued by some Japanese balls. Buddhism, through the Yin and Yang, invites you to play on the opposites to find your balance. So counterbalance the sobriety of your walls with a neutral dye, a Japanese cherry blossom painting or any other japanese painting decoration to bring a healthy sweetness.

4. Nature: Some futon beds offer tatami mats made of mats, braided mats, straw mats. You can also make the choice of bamboo, material more and more used. Bamboo is easily present in the bedrooms, for the frames, the blinds, the Bento boxes...

The water fountain, dripping on polished stones, is also a classic Zen accessory. Nothing like a low and rustic table as well as poufs, floor cushions or low sofas leaving an opening on the Japanese garden for a corner inspired by minimalism, ideal for reading and calming.

BROWSE OUR JAPANESE DECOR TO SUBLIMATE YOUR INTERIOR

We can still give you some tips and decorating ideas to create a Japanese decor at home that will bring a refined atmosphere while meeting the codes of Zen and Buddhist inspiration for a peaceful interior.

You can start by bringing nuances in your Japanese room, whether with wallpaper or wonderful Japanese paintings in the image of traditional art or your favorite anime manga. Wall stickers can also be a nice alternative to Japanese paintings, original & cozy, they will replace a garland or other japanese decorative objects for your bedroom. You can also opt for a Noren, these traditional curtains are perfect to replace a western door and its industrial style, the Noren will strengthen the cocooning style without separating 100% your rooms.

For the decoration of the house, the cushion covers are beautiful ideas for decoration. They will bring the design and cozy decoration to dress your home. The cushions or "Zabutons" are the last touch for the house and make your interior decoration warm. You will also find a multitude of Japanese figurines like the famous Maneki Neko for your shelves and Darumas as well as japanese masks.

It's time for you to make your own choice with our advice and to know for which decoration piece you will melt! Bring a Japanese air and renewal to your home: living room, office, kitchen, bedroom, everything is changeable! Create the Japanese space that suits you from a selection of design objects and decorations. Let yourself be seduced by a type of decoration and bring a japanese touch everywhere you go.

Our Japanese clothing store also offers a wide range of japanese paintings and canvases created in partnership with japanese and international artists. These independent artists, with styles and cultures close to Japan, create for you unique works inspired by the views of Mount Fuji, the Kanagawa Wave, geisha and samurai and the famous sakura flowers. Each Japanese painting is imagined to correspond to the Japanese culture and transmits strong emotions through these atypical designs.

All of our paintings benefit from a digital 3D printing with a superior technique and quality. We have selected the canvas fabric as a priority support thanks to its protective properties and its rendering allowing to sublimate our Japanese works, the paintings of the Japan-Clothing store keep bright colors and will not lose any brightness during their exposure to the light.

It will be possible for you to choose among several existing formats according to your desires. Choose the size 40x60cm for small rooms or a size 70x105 with its wooden support in order to decorate a whole wall with traditional japanese patterns. You will also have to make a choice between the painting without support or with its wooden support.

Don't wait any longer to take a look at our japanese prints, these plates engraved during the Edo era in Japan and using the Ukiyo-e technique. These prints can replace the Japanese paintings to bring a more ancestral air thanks to its moistened paper and its calligraphy with Indian ink. If you want to decorate your kitchen, don't forget the famous japanese Noren which allows you to replace the door of your kitchen by a fabric split in two in order to be able to cross it without encumbers.

Japanese clothing and its authentic style

You wish to discover the best clothes of Japan? Welcome, you are at the right place. This category gathers all the Japanese streetwear or traditional style outfits you are likely to like. Browse our best sellers to update your wardrobe and your outfits during the seasons.

Each of our japanese style clothes is carefully selected by our designers and our team to offer you only long lasting clothes with 3D digital printing design or traditional Japanese embroidery! If you are looking for one of these pieces, we have it for sure. You're bound to find what you've been looking for in our japanese store's collections! And let us tell you more.

As you probably know, in our society, clothes make the man. That's what we think at Japan-Clothing. Why would you tell us? Because the clothing or the style that you adopt gives people the power to judge you and know more or less your passions. And wearing japanese clothing is the assurance to make others notice your love for the culture of the rising sun and thus start a conversation on subjects like manga, anime or japanese streetwear.

Our community is full of people looking for an atypical look, sometimes offbeat or clearly a rebel style. If the Japanese youth is equal to the French youth on one point, it would be the autonomy and the escape from the metro work sleep. For that, it is important to start to differentiate yourself at the outfit level and to start on a look that corresponds to your state of mind and your thoughts in order to escape the casual style.

Our life is not healthy and is full of stress, the men wearing our clothes understand this perfectly! It is important to hold on to things that bring us some serenity to ease our pressure and our clothes know how to do it very well, indeed, whether it is through Japanese motifs like the Kanagawa wave, sakura flowers or landscapes like Mount Fuji. They will be the key to wisdom, in your life as well as in your style!

Our Japanese hoodies are the most popular models in this collection. The unique style and completely infused with the sweet Japanese culture offers a moment of respite in the hearts of those who wear them. Start your initiation now with easy to combine pieces for a smooth style transition!

For the more advanced among you we have a collection of exceptional sukajan and bombers, all embroidered in the traditional Japanese way, these jackets were once worn by the Yakuza during the post-war period! Also, check out our kimono and haori jackets to get closer to the rebellious and history-laden culture in Japan.

Find the perfect piece in our large Japanese store with over 500 traditional japanese clothes for men and women to enjoy!

Our japanese sweatshirts are embroidered and designed in an eco-friendly way and made from soft, durable and organic cotton. They come in a multitude of colors and designs, whether you are more of a sweater, hoodie or sweatshirt, we have something for you. The japanese hoodie is a perfect representation of the urban and streetwear style, it can change your outfit depending on its pattern. You will find in our bestsellers sweatshirts with Japanese writing or with traditional Japanese embroidery for a casual and streetwear look. Don't miss the japanese print hoodie with sportswear style during your mid-season walks.

Japanese patterns are a great way to add a little creativity to your outfit. If you're going for a more stylish look, adding patterns to your japanese tee shirt will help you diversify its look.

The Japanese style t-shirt has become a staple in the wardrobe of anyone who wants to go back in time. The roots of this garment run deep, and it stands out as just one of many traditional japanese clothes that men and women wear every day, but this particular style is simple enough that you can easily dress it up or down accordingly. You can now get a t-shirt with japanese designs as there are many stores that sell this type of clothing. By wearing these t-shirts, you will be very trendy and fashionable in Harajuku since the patterns are all the rage in Europe.

Our collection of traditional japanese clothing

The Japanese kimono is one of the most recognizable traditional clothes in the world. The word kimono literally means "garment", and until the mid-19th century, it was the form of clothing worn by everyone in Japan. This slowly began to change with the importation of Western dress and other fashions during the Meiji era.

Thanks to the popularity of ukiyo-e woodcuts in the West at the turn of the last century, the kimono-clad girl became one of the quintessential images of Japan. Dressing up in kimono and other accessories of the geisha or maiko is still one of the most popular activities for visiting tourists or Europeans to make a Cosplay or to be gently introduced to the traditional japanese fashion.

They are a sort of outgrowth of traditional yukata or furisode, beautifully designed and characterized by their color and character. At Japan-Clothing, we have gathered the best collection of women & men's kimonos. If you are looking for an extra layer to make an outfit shine, we recommend picking up a kimono, we have a selection for both men and women. Long and short kimonos offer many layering possibilities for your japanese outfits.

They are versatile, whether it's casual wear or a formal event, the kimono jacket will be ideal to wear. Add a splash of color for evenings out with a short fringed kimono, or soak up the sun in a long kimono paired with denim shorts. Kimonos even have a place in your workplace wardrobe, just choose solid colors and simple cuts. From Japanese or geometric patterns to floral kimono, we've selected a beautiful range of women's & men's kimonos that you won't see anywhere else.

JAPANESE PAJAMAS

While the kimono and yukata are traditionally a single draped layer tied with a belt, jinbei or Japanese pajamas come in the form of a pajama set or set-short, two pieces and a jacket. Originally, they were used as men's homewear, but they are quickly gaining popularity among women as well thanks to its often atypical print and casual style for both women and men. Jinbei clothing is a little closer to western style clothing than a Yukata in an evening dress. So they are a little less of an open "statement" of tradition. They are also easier to put on and take off, as you don't have to worry about fastening your obi belt.

Want to know a secret? The star of the traditional japanese outfit is actually an accessory in its own right. Want to know what this other thing is? Simply the Obi belt. Most of the Obi produced today come from an area of Kyoto called Nishijin. This area has been the center of the japanese textile industry since the 16th century. Nishijin is well known for its high quality silks and was used to provide textiles for the imperial courts and samurai lords. There is a style of silk known as Nishijin-Ori which is a weaving technique requiring great skill and is very expensive to produce.

The Japanese Fan is a very recognizable icon of japanese culture and is part of an ancient Japanese craft whose origins can only be found in Japan. Much more than just a japanese accessory for stirring the air, Japanese fans are intimately connected to the long and fascinating history of the Land of the Rising Sun. Today, they remain an important artistic medium and an elegant fashion accessory. We give you a quick overview of everything you need to know about fans, their history, influences and uses.

The famous wooden geta are here for you! Our collection includes a variety of styles to complement any traditional Japanese outfit for any occasion. japanese sandals are a great way to finish off your cosplay costume and an easy way to wear when you go for a short walk. Choose from our collection and find the perfect pair for you today.

Traditional japanese shoes are the ancestors of our current flip-flops. Usually worn with a kimono, these simple yet elegant shoes have been an integral part of japanese culture since they first appeared hundreds of years ago! The soles of these old-fashioned shoes can be made of wood or plant material, giving them that characteristic "rubber toe" feel you love so much, without being unnecessarily bulky so you can walk around town looking like a true Japanese. It is mainly found at ceremonies, festivals or at the feet of geishas at japanese theaters.

The story goes that geta shoes were used as everyday shoes during the Edo era. These wooden sandals with a raised sole allowed them to walk longer distances without getting tired, which was important since few people had access or desire to have motorized vehicles at that time. They often wore their kimono over them, as seen in the photos of the time!

The benchmark of japanese traditional clothes

Traditional fashion is not that which is designed by sophisticated and refined designers. It emerges from the local base. It is rather a matter of tradition and culture. Until now, the most important japanese clothes is the traditional japanese clothes. It instills the culture to young and old all over the world! Local and foreign brands are well aware of japanese fashion. It has a great influence on the mainstream fashion industry! Although there has been an obvious change in styles, Tokyo still carries its pride and honor.

At Japan-Clothing.com, we offer you the best of japanese fashion at extremely affordable prices. Come and get traditional styles or unusual street styles. Our online store offers the most flamboyant and famous traditional designs in the land of the rising sun. They have been carefully chosen especially for people who want to get into Japanese clothing step by step. Teenagers are often very concerned about their style. They look for variety in everything they wear. For them, fashion is an act of self-expression.

Buy Japanese fashion because it has spread across wide catwalks. It has gone from bold to mass market in no time, especially when it comes to Europe. People in all countries have realized that there is a craze for Japanese traditional or street wear all over the world. It is part of their routine and gives them a lively look and a special expression through their style. For an elegant and chic look during mid-season it will be better to turn to the women's kimono, it will allow you to keep a traditional Japanese style and streetwear at the same time!

The advantages of ordering on our japanese store

The Japan-Clothing store is the n°1 shop in USA for japanese streetwear and japanese clothes. As said above, we only work with qualified and recognized partners in their fields. Thanks to this network, we can propose exclusive and unique products, always at more attractive prices for our customers. The quality of the items sold in our stores is a priority and we do not tolerate any breach of this rule. We receive hundreds of partnership requests from suppliers but only a few are accepted because we scrupulously watch over the quality, the loyalty and the ecological footprint of each product.

In spite of the health crisis, we make sure to respect the delivery times fixed at the time of the order. As a reminder, delivery is free in all countries of the world. Japan-Clothing delivers to more than 30 countries around the world in partnership with several carriers.

We have a customer service available from Monday to Friday with an assurance of response within 24 hours. If you have any questions about your order or a particular product, please contact us. Available and listening to you, our team is here to answer your questions.

All payment methods available on our japanese online store are of course 100% secure. We only use platforms recognized for their protection for buyers like (Visa, Visa Electron, Mastercard, American Express, ect..) but also PAYPAL.

With Japan-Clothing you choose quality and security.

Join the team and see you soon in our japanese online store!